PART-P CERTIFICATE OF COMPLIANCE
---
---
The Building Regulations (Building Regs) set out the minimum requirements for the design and construction of buildings.
Planning Permission may be required for some work, but the Building Regulations must be followed for all building works,
even when Planning Permission is not required (e.g. fitting a new kitchen).

The purpose of the Building Regulations are not to keep armies of box ticking civil in jobs, but to ensure that
the buildings you live and work in are safe. Recently, energy conservation requirements have been added to the
Building Regulations - again for your benefit in lower overall energy bills.

The Building Regulations are made up of the following parts:
Structural.
Fire Safety.
Site Preparation and Resistance to Moisture.
Toxic Substances.
Resistance to the Passage of Sound.
Ventilation.
Hygiene.
Drainage and Waste Disposal.
There is no "Part I".
Combustion Appliances and Fuel Storage Systems.
Protection from Falling, Collision and Impact.
Conservation of Fuel and Power.
Access and Facilities for Disabled People.
Glazing - Safety in relation to impact, opening and Cleaning.
There is no "Part O".
Electrical Safety.

Professional Electricians have to know Part P (Electrical Safety) of the Building Regulations in detail,
with a good overview of all parts of the Regulations and detailed knowledge of specific sections
of some parts of the Regulations - here is an example of some of the other relevant regulations:
Part A - in respect of allowed sizes and locations of holes & notches in floor joists etc.
Part B - in respect of maintaining fire barrier properties of ceilings in the case of fitting downlighters etc.
Fire Alarms and associated equipment & wiring.
Part C - in respect of knowledge of damp proofing and working so as not to interfere with or compromise moisture barriers.
Part E - in respect of maintaining sound proofing between rooms when fitting downlighters in ceilings,
sockets in stud walls etc.
Part F - in respect of Ventilation in bathrooms etc.
Part L - in respect of conservation of power (low energy lighting etc).
Part M - in respect of heights of sockets & light switches for disabled people etc.
Since 1st January 2005, all electrical work must comply with Part P of the Building Regulations and
a (one page) certificate is mandatory for any electrical work (even minor works) in kitchens, bathrooms & outdoor electrics.
It's necessary to have this certificate when selling your property as your buyer's solicitors will contact Building Controls and search for notified electrical works as part of the normal searches. Electrical safety is now included in the Building Regulations and as such, the property owner is responsible for complying with the regulations. The notification process & issue of the appropriate paperwork is handled automatically by NICEIC registered electrical contractors like EEC . Failure to comply with the regulations (i.e. not have the proper paperwork) could result in a fine of £5000 per offence.

Insurance companies are increasingly asking for proof of compliance with the Building Regulations for any works undertaken prior to a claim. Failure to have the proper certification could result in a reduced payout or none at all.

IMPORTANT NOTE
Ignorance of the law is not a defence.
The property owner is responsible for complying with the regulations (not the Electrical Contractor).
Building Controls are there FOR YOUR SAFETY.
Electrical safety is one part of the range of safety regulations detailed above.
---

---
SAMPLE PART-P CERTIFICATE OF COMPLIANCE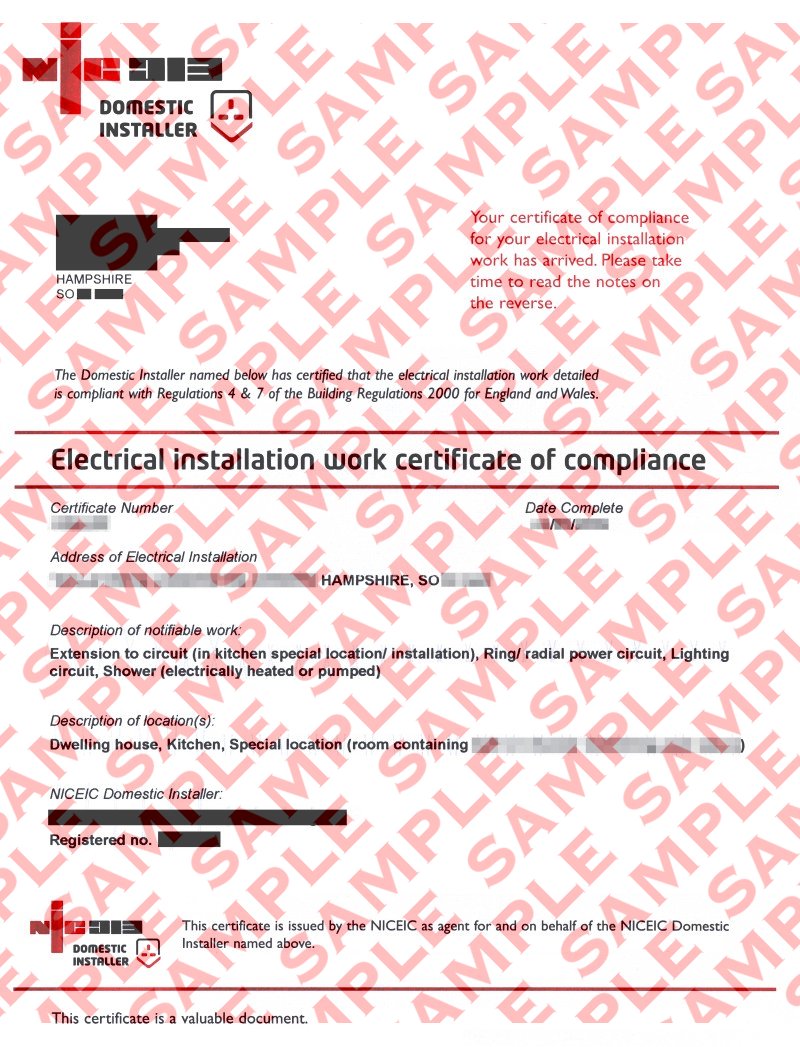 SAMPLE Part-P CERTIFICATE OF COMPLIANCE - FRONT PAGE
---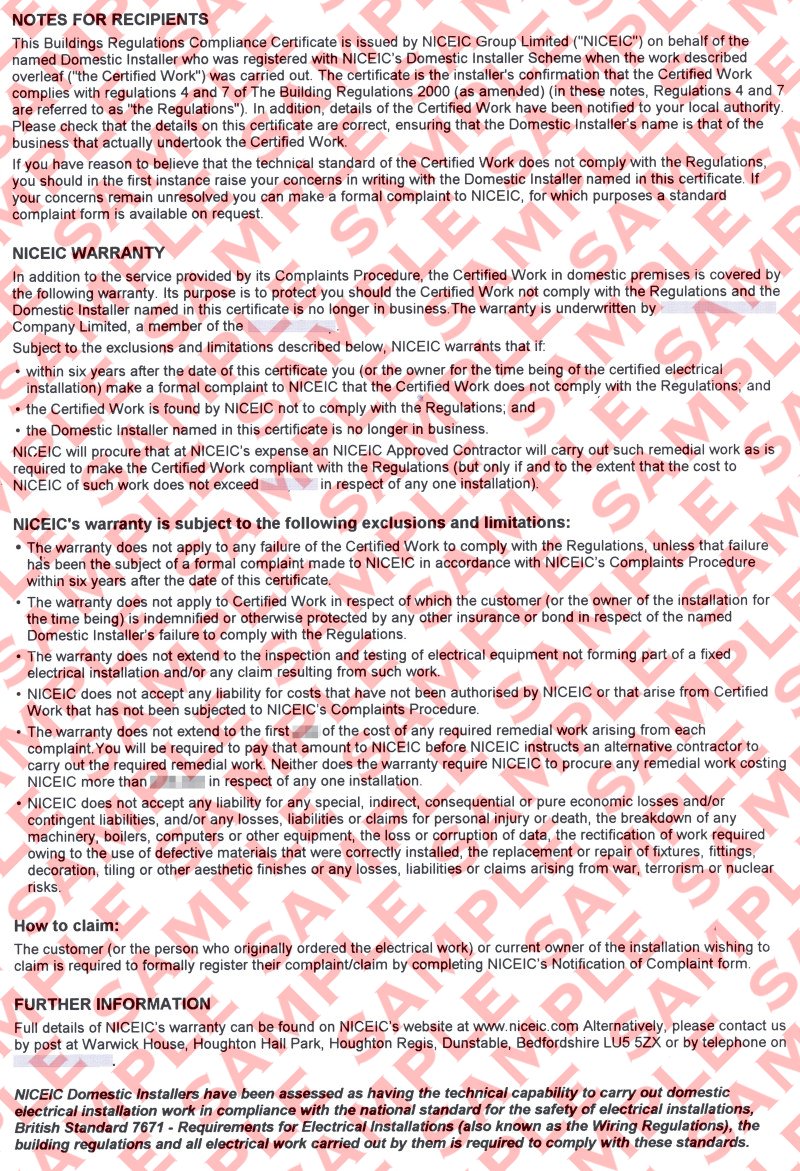 SAMPLE Part-P CERTIFICATE OF COMPLIANCE - BACK PAGE WITH SIX YEAR WARRANTY
---

---