FLEXIBLE FRIENDS

---
---
#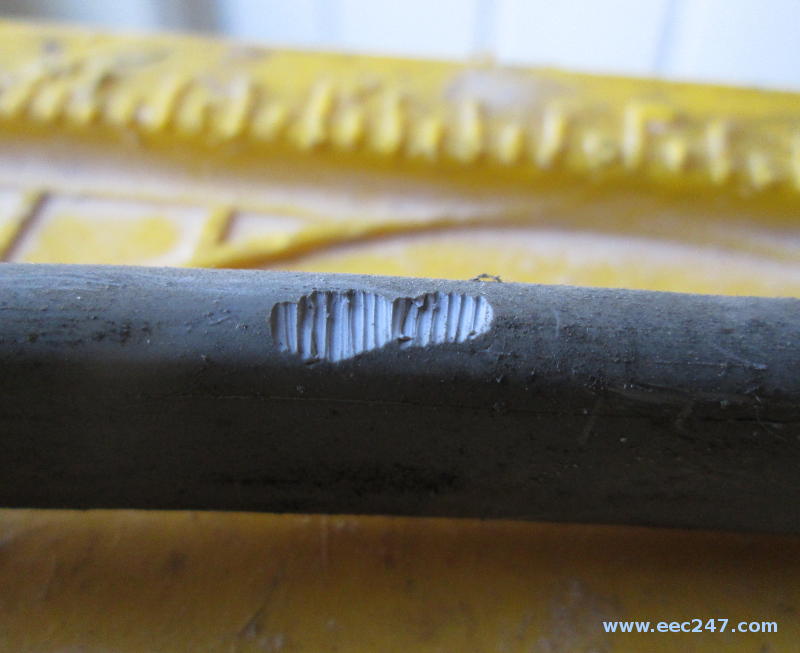 Tooth marks made by a rodent in an electrical cable under the floor of a house in Southampton.
---
#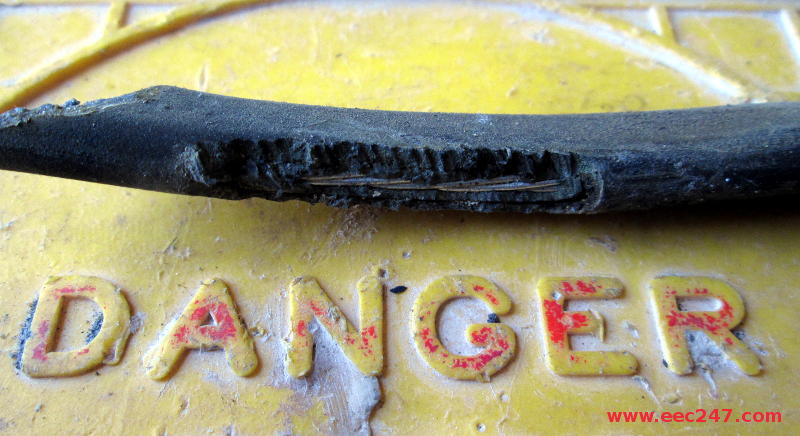 Old rubber electrical cable showing signs of rodent damage, found under the floor in a house in Chandlers Ford.
The reported fault was "The upstairs lights don't work".
The house was built in the late 1950s, with the original rubber covered cables throughout.
---
#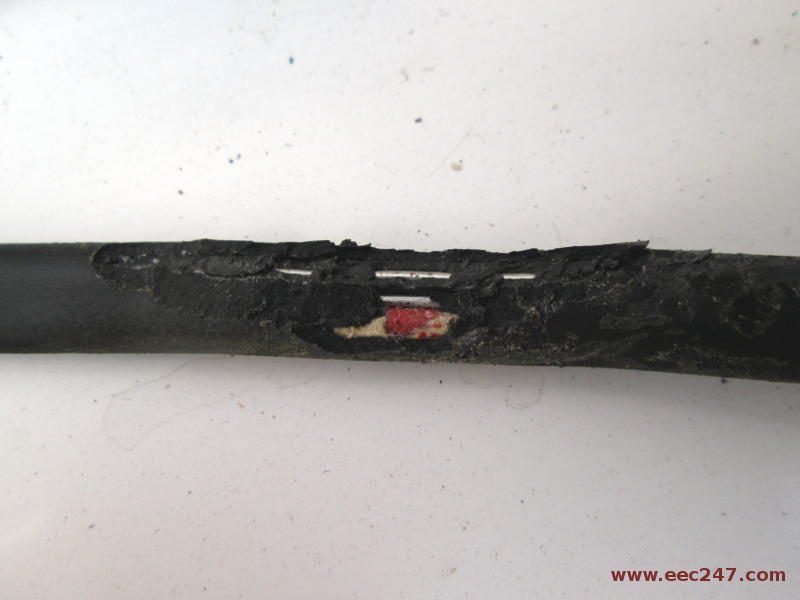 Another old (perished) rubber covered electrical cable, showing signs of damage by rodents.
The house was built in the early 1960s and most of the electrical wiring was from that period.
---
#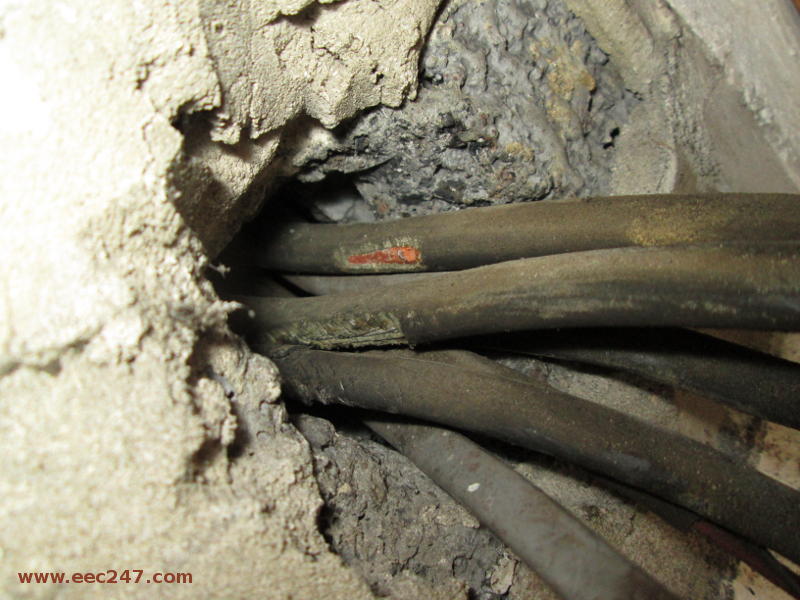 It is no longer acceptable to run electrical cables in wall cavities of a house because:

Damage by rodents is a strong possibility.
Compromises the outer to inner leaf separation, allowing moisture to flow across the cavity.
Modern cavities are insulation filled, making it more difficult or impossible to route cables.
Insulated cavities inhibit thermal flow from cables, causing the cables to overheat.
---
#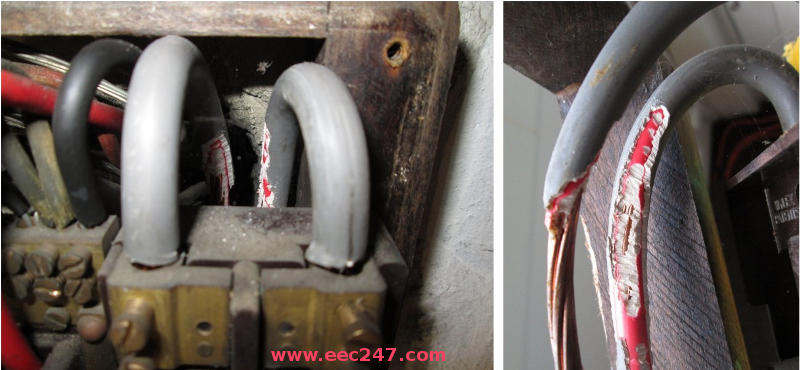 The main tails from the electricity meter are not immune from rodent damage when accessible by our flexible friends.
---
#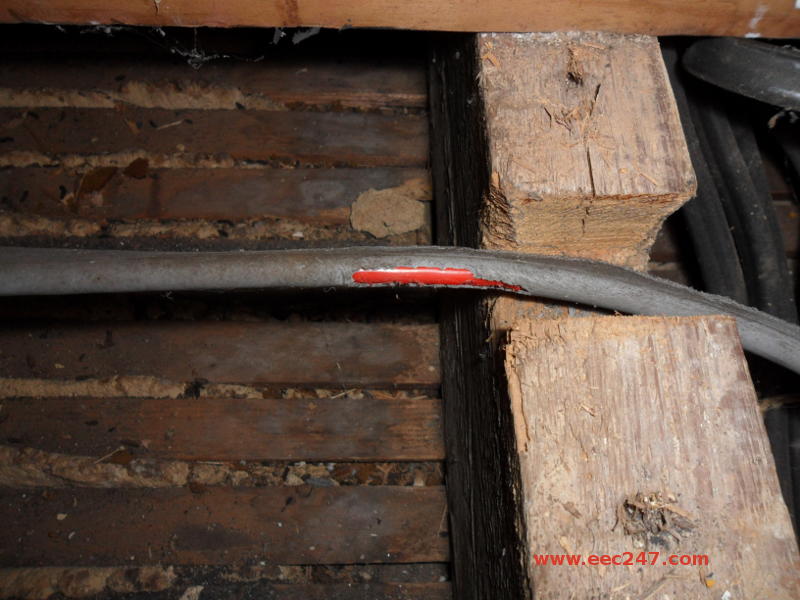 The outer insulation of this cooker cable has been eaten by a rodent (rat or large mouse).
---
#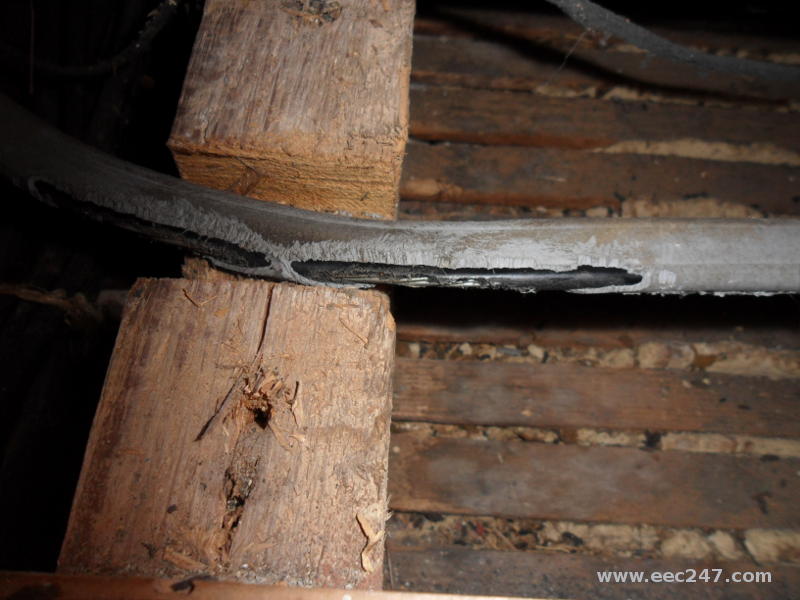 Rodents can get to the cables where there is very little access.
This is the same cooker cable at the next notch in the floor joist.
---
#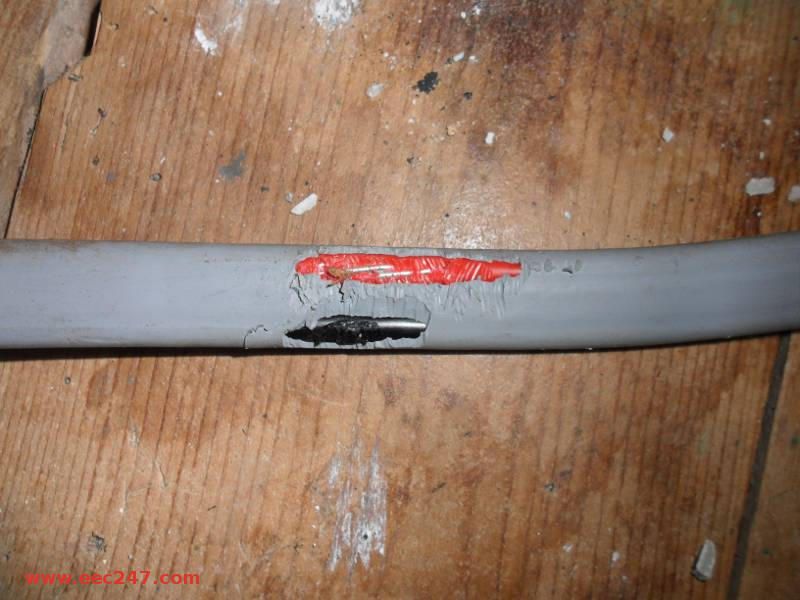 The same PVC cooker cable, further along the route with outer & inner insulation eaten, exposing the live wires.
---
#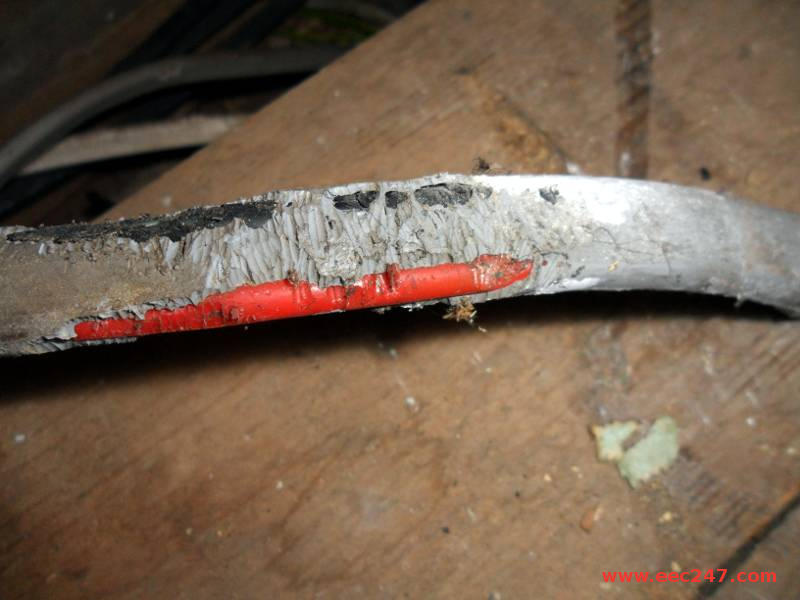 The same PVC cooker cable, further along the route, showing more damage.
When you find one piece of rodent damaged cable, it's usually only the tip of the iceberg.
The same cable is likely to have more damage elsewhere and expect other cables to have suffered too.
---
#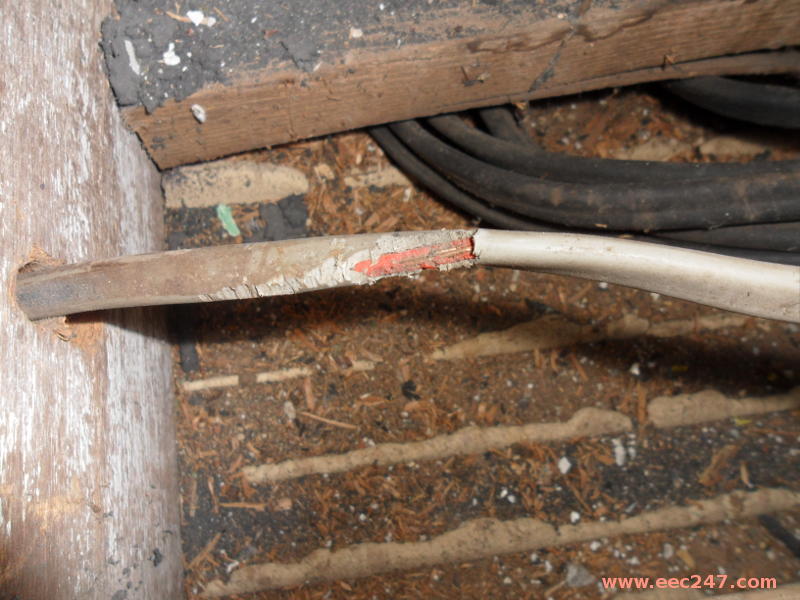 White PVC covered electric shower cable showing signs of damage by rodents.
---
#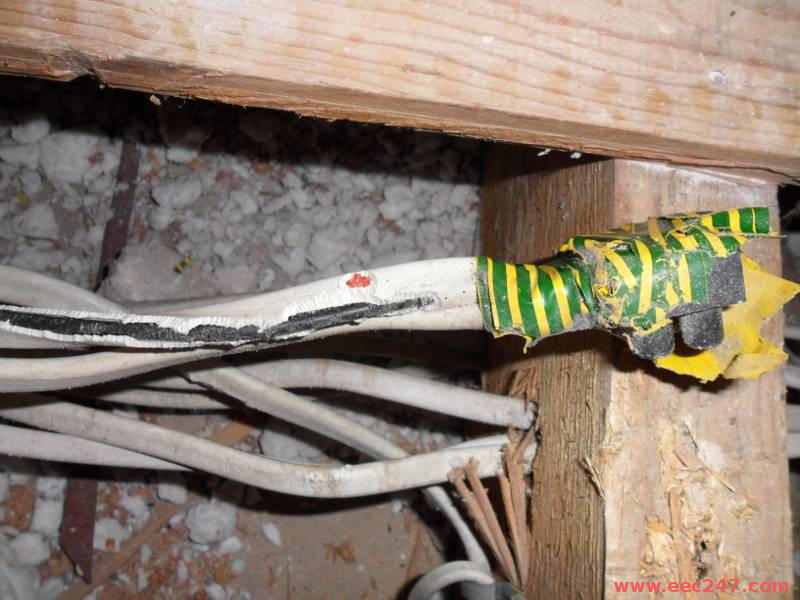 Incorrectly joined cable - it is not acceptable to join the cables with a terminal block and wrap it in tape.
In this case the rodents have attacked the cable and the bad joint.
---
#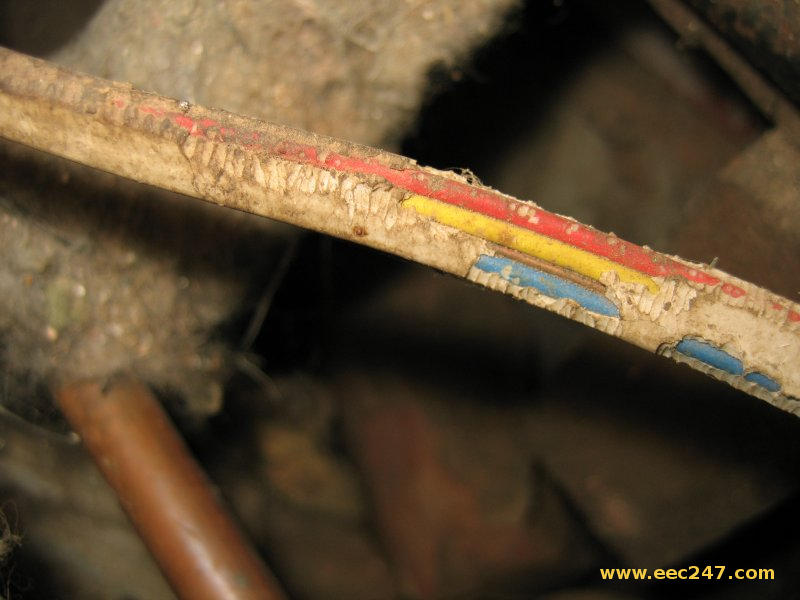 There is a theory that rodents are attracted to white cables more than other colours
because they look like plant roots. However, all cable types and colours are prone to attack.

---
#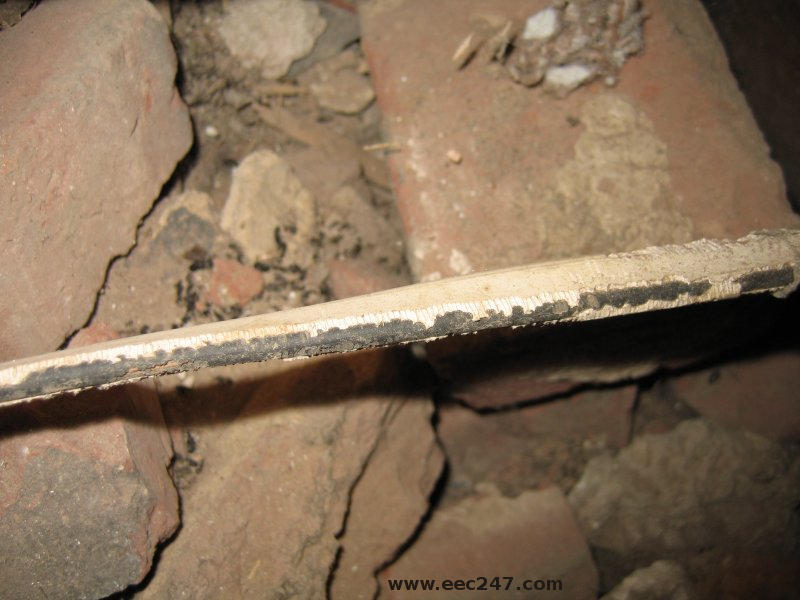 To the left of the picture, you can see they have just started to expose the copper conductor of the cable.
---
#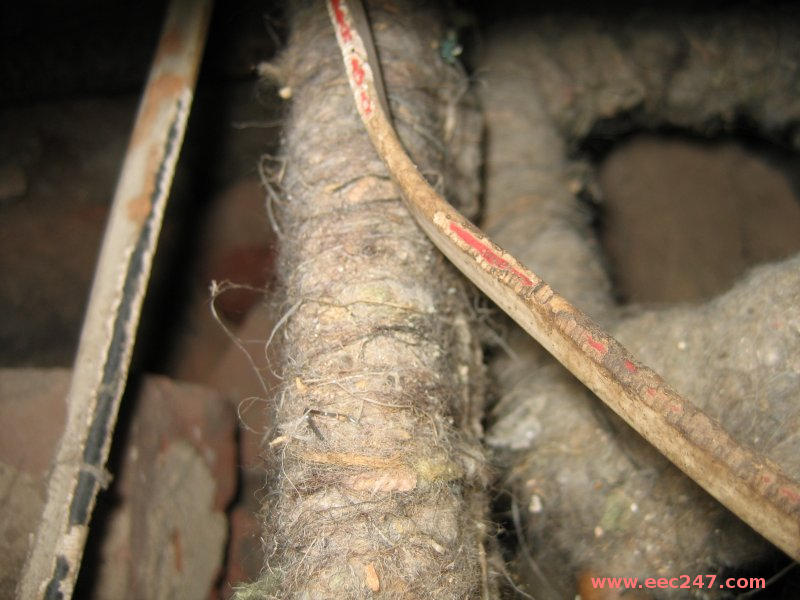 How do rodents survive eating through to the live cables?
Actually, they don't. Just out of sight in this picture, there is a fried rat!
---

---